about JOHNNY C. TAYLOR, JR.

As president and CEO of SHRM, Johnny C. Taylor, Jr. states his ambitious, visionary goals like this:
"I am committed to the development and equity of work, workers, and workplaces.
"I believe that all people without exception should have the opportunities to do what they do best and to have workplaces that enable them to succeed and make positive differences in society.
"Work is a universal experience, but not everyone experiences fair and dignified workplaces. I believe this has to change. I advocate for the best work has to offer — for the multinational organization, the small business, the worker with a criminal record, the one who is older, the average, excellent, immigrant or minority worker, and for their employers.
"Through HR leadership, innovation, and advocacy, I am working to improve workplace development, flexibility, immigration, and equity. We must lead the way on worker education and training for 21st-century jobs. We must innovate flexibility solutions. We must advocate for global talent and equal pay.
"People really do matter. My goal is to drive workplace issues forward so that everyone can have dignity through work in order to create better workplaces and a better world."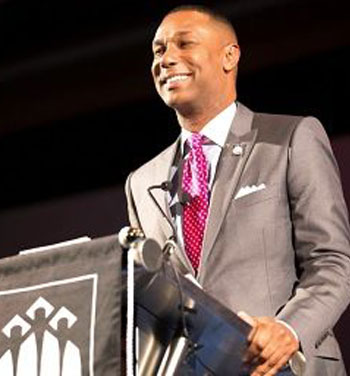 In a 2018 White House ceremony, President Donald J. Trump appointed Mr. Taylor Chair of the President's Advisory Board on Historically Black Colleges and Universities, and later that year he was named to the American Workforce Policy Advisory Board.
Mr. Taylor currently serves on the corporate board of Gallup, the leader in organizational consulting and public opinion research; as a member of the Board of Trustees of the University of Miami; as an advisor to Safe Streets & Second Chances, an initiative to reduce the high rate of recidivism in America; as a board member of Jobs for America's Graduates; and as a member of the Board of Governors for the American Red Cross.
Mr. Taylor holds both a Doctor of Jurisprudence and a Master of Arts with honors from Drake University. He obtained a Bachelor of Science with honors from the University of Miami. He is licensed to practice law in Florida, Illinois and Washington, D.C.